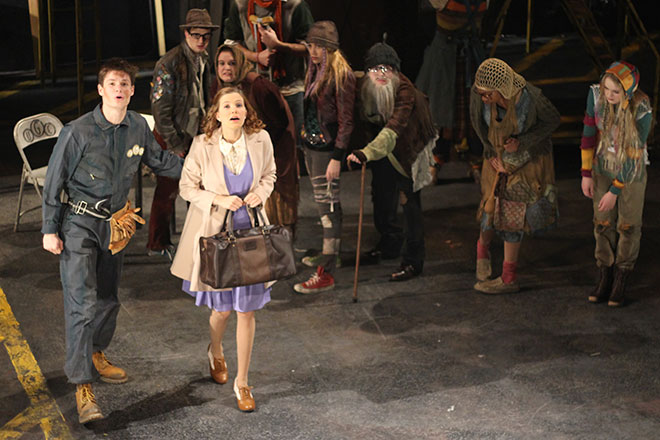 Scott Weinstein (Comm '10) has done a lot since graduating – namely, he's directed more than 20 shows at theaters in Chicago and across the U.S. That résumé includes directing a 2016 non-Equity production of Rent that won best musical or revue and best director, musical or revue, at the local Jeff Awards, and associate directing the American touring production of Million Dollar Quartet. Now, he's back at Northwestern, directing a University production of Urinetown: The Musical – yes, a show about pee. NBN talked with Weinstein about Urinetown, politics, satire and his time in college, among other things. This interview has been condensed for length and clarity.
What made you decide to direct the show?
It's been one of my favorite shows for a long time, [but] when I first came across it, I was terrified of it. I had no desire to do it, because I was like, "Oh, it's so perfect," and thought I had nothing to add to it. And then, when the theater asked me if I want to do it, I read it again, I was like, "Oh, I have a lot to say about this show." It feels so relevant for the times we're in right now, that figuring out what this show means now in a new political context than one with which it was originally written, I think is a really interesting challenge.
Yeah, the relevance was one of the first things I noticed reading up about the show. I was like, "Wow."
Yeah, it sort of has this history too of adapting to different times. It was written in 1999 and it opened on Broadway in 2001. It was supposed to open two days after 9/11. And it was interesting in that the show totally had a significance when it was written pre-9/11, and then after 9/11 it had this entire new significance. … It sort of seemed to predict the way that government surveillance would become a big issue in our lives and how we would forfeit our civil liberties in the name of safety and things like that, but nothing was changed from when it was written to when it actually opened on Broadway. And then now it has a whole new meaning in the current political climate that we're in.
What do you think it means to have this show right now?
Well, I think it's really prescient. There's an interesting coincidence in that one of the main characters is a narcissistic business tycoon who is firmly instituted in the government and has created a system that keeps the rich rich and the poor poor. So it feels very relevant to today's climate, for sure. It also has a lot to say about environmentalism and where our planet could be heading. It's all of these heavy political ideas wrapped up inside of a silly musical about a world where you have to pay to pee.
From what I understand, satire plays a big role in the musical.
Huge role.
How does that make this show different?
It's a really self-aware musical, and it started the trend of that. When Urinetown came out … there weren't all of these musicals that were doing that. … In the '90s, we had this period of huge mega-musicals that came over from England like Les Mis and Phantom of the Opera and Saigon and all these huge extravaganzas that took themselves very seriously. And Urinetown was kind of a response to that, to do this musical that is this goofy premise, that still takes itself seriously, but makes fun of these very serious musicals.
I was listening to the soundtrack earlier, and I noticed that it seems like it knows that it's a show.
Absolutely. One of the first things that happens is a narrator comes out and says, "Welcome to Urinetown." The narrator references Act Two all the time, and song and dance. It's very, very self-aware, and purposefully so.
Also, in reading about it a bit, I saw somewhere that there are roles in the show that are said to be some of the best roles in theater.
Yeah, they're great. You've got the character of Bobby Strong, who's the main protagonist and has some really fun numbers. It's fun – in some ways, he's the straight man to all the craziness going around him. He's modeled off of these very classic musical theater protagonists, and he even has the name Bobby Strong. He's this very archetypal leading man that gets to turn that on its head. And then you've got the character of Hope, who's the love interest and starts the play like she's in a 1940s musical in the classic, sort of naïve ingénue. What's so fun about the role though is, without giving anything away, somewhere around two-thirds through she grows up in a big way and turns that archetype on its head, and really gets to take action and becomes kind of violent.
So with all these different roles in the show, hypothetically, if you were in the show, where would you see yourself?
Oh, man. That's hard. I think the people who play The Poor get to have the most fun. They get these characters that, when you first meet them, are just these very downtrodden people, and then by the end of the show they all have these very distinct, ridiculous personalities as they become revolutionaries. I think they get to have the most fun, they have all the song and dance numbers.
You directed another show here a few years ago, Into the Woods. What are some of the differences between directing here now with Urinetown and directing Into the Woods?
I mean, they're such different shows. Urinetown is a straight-up satire and is all about how funny we can make it while still dealing with these very serious issues, making you think about these serious issues through humor, and Into the Woods is a more emotional story, I think. I think this is emotional in its own way, but I think Into the Woods, it's about the relationships between parents and children, so it was just a very different style of musical. You're dealing with Sondheim music, which is complex in a different way, and dealing with a more naturalistic style of acting. And in this we're dealing with heightened acting and with playing into these tropes of … old-school musicals. It's very different, stylistically.
And you were a student here too. What'd you do with student theater?
I directed The Dolphin Show my senior year, we did a musical called Parade – which I think is happening again this year, which is so funny. And I directed a play called Noises Off my junior year, and acted in productions and was on Arts Alliance and was all over the theater.
Noises Off, that's the "backstage at a play" one, right?
Yeah, and it was a huge technical challenge too because it's a big set, it's a two-story set that has to revolve, because the first act is all on the set of the show and then the second act is backstage at the show that they're rehearsing, and so the whole set had to revolve. It was a really cool technical challenge for a student show.
So for students here who might be interested in writing or acting or directing, what advice would you have for them?
I would say keep working at it, and if no one gives you the opportunity to do something, make opportunities for yourself. Find people you love making work with and create art with them. Don't wait for someone to hand you money to do it, don't wait for someone to hand you a space, just find a place and find people and do what you like.
That seems to be very prominent here with all the student theater groups.
Totally. And I'd say, in the real world, do that too. It doesn't have to end at college.
To wrap up, why would should Northwestern students come to see the show?
It's one of the funniest pieces of theater ever created. I think in times like these, when tensions are high and fear is high, we all need to laugh, and I think Urinetown is the perfect place to come and laugh at a show about people who have to pay to pee.
Urinetown: The Musical runs Feb. 10-26, with shows at 7:30 p.m. on Thursdays, Fridays and Saturdays and at 2 p.m. on Sundays. There will be no show Feb. 16 and a post-show discussion Feb. 23. Tickets are $6 in advance and $10 at the door for Northwestern students.