Toward the end of her set, Ravyn Lenae tells the crowd she's going to perform "Spice," the single off her 2017 Midnight Moonlight EP, to screams and cheers. She commands the stage, moving her body and her voice to entrance the 250-or-so students in the crowd. As she sings, "I'm your favorite song," in the hook, she's confident, and she should be. She's more impressive than anything most of them have seen at a student concert.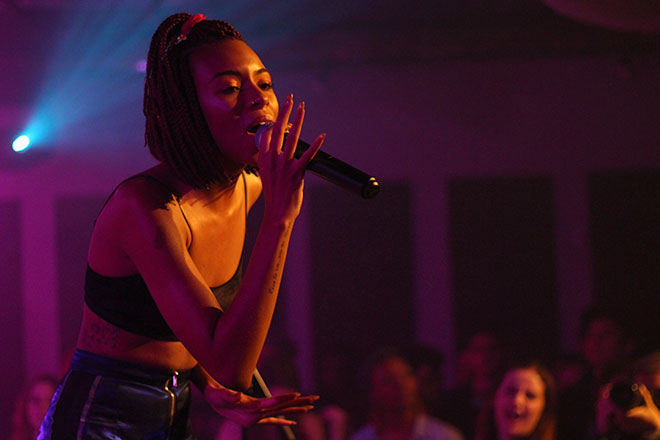 Lenae, a 19-year-old neo-soul singer from Chicago, co-headlined A&O Productions' Chicago Benefit at SPACE Thursday night. Her performance, along with the first headlining set from Knox Fortune, made this second-annual Chicago Benefit the best NU concert in recent memory.
Chicago Benefit has two goals: to introduce students to musicians from the city and to raise money for a music-oriented service group on campus. Along with bringing Lenae and Knox Fortune, an alternative singer and up-and-coming hip-hop producer, A&O donated the show's proceeds to AMPED, the Arts and Music Programs for Education in Detention Centers. The group, operated through the Center for Civic Engagement, brings NU students to the Cook County Juvenile Temporary Detention Center to make hip-hop music with incarcerated teens.
After a brief presentation about AMPED, Knox Fortune took the stage around 8:15 p.m. He told the crowd – then about 100 short of its peak – to move five steps toward the stage, a fitting start to his energetic, personal set.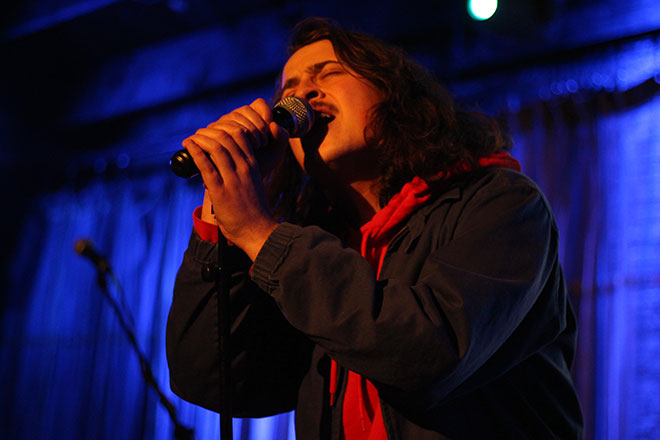 Most of the audience knew Knox Fortune for the hook and production on "All Night," Chance the Rapper's party hit off Coloring Book. Born Kevin Rhomberg, he's also produced for Vic Mensa and backs Joey Purp live. But Knox Fortune wasn't behind a keyboard or synths tonight – only a mic, and with a live band for the backing.
This worked to mixed results. Rhomberg's voice isn't the strongest without his editing and production, so he couldn't hit some of the notes and fell into pitchy territory. He made up for it with energy though, as he got the crowd excited with carefree songs and even an enthusiastic rendition of "All Night." Knox Fortune's live band gave him a boost as well, with the funky accompaniment that got everyone moving.
Most of the 40-minute set came from Knox Fortune's debut album, Paradise, released last fall. The songs were lively, but the clear highlight came from one of the less-popular album tracks: "I Don't Want to Talk About It," which turned into a rock "bloodbath" live. Knox Fortune also performed an even newer song, "Shirtless," which took a more electronic angle live than his other material.
He got the audience excited about his music, but more importantly, Knox Fortune got the room ready for Lenae. Fresh off her third release, the Crush EP, last week, Lenae set expectations high as she entered to a smooth intro from her band. After the first song, she made everyone in the crowd promise – pinkie promise, in fact – to move their bodies to her music. And she kept everyone to it, by singing a near-hourlong set of silky soul backed by an impressively groovy band.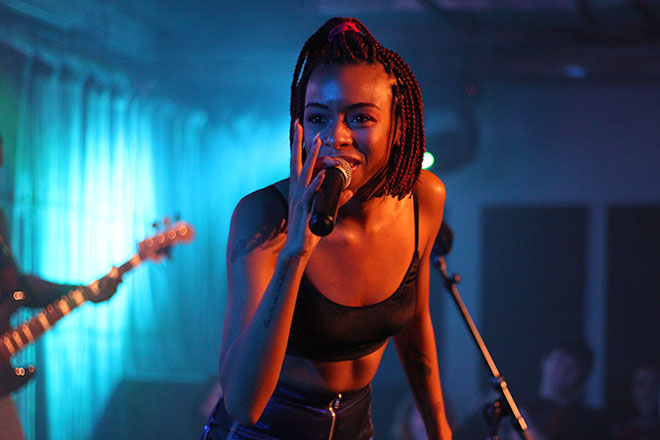 It's hard to believe Lenae is only 19 when watching her perform. The stage is hers, and she controls the audience's attention like someone who's been doing this for years. That's not to say she hasn't either – she's opened for SZA and for last year's Chicago Benefit headliner Noname, and she released her first EP in 2016. Yet even as she performed songs off the Steve Lacy-produced Crush for the first time, she presented herself as a seasoned vocalist.
Crushserved her well throughout the night. It has her strongest live material of the three EPs, especially the Lacy-featured tracks "Computer Luv" and "4 Leaf Clover," which felt heavier live than some of her previous work. Which isn't to say her other music is bad, either, since her voice still thrilled in songs like "Alive" and "Thirst." She even shines in music by others – an early highlight of her set came from a stripped-down cover of "Prototype," a song by one of her biggest influences, Outkast.
Lenae ended high with a triple-punch of EP singles, from "Spice" to "Sticky" to "Free Room." The songs emphasized her strengths – performative vocals, rhythmic vibes, audience interaction – and the crowd seemed to like each better than the last.
Before closing with "Free Room," Lenae noted that audience members "could've been anywhere else in the world," and was even more impressed that they turned out to the show when she found out it was midterm season. She launched into the last song, repeating, "You don't know me anymore," throughout the chorus. Unlike her lyric from "Spice," this was the farthest thing from the truth. As she hugged a few audience members on her way offstage, it became clear that a select few hundred students got to know Lenae tonight – and judging from her set and their reaction, they'll know her for a while.