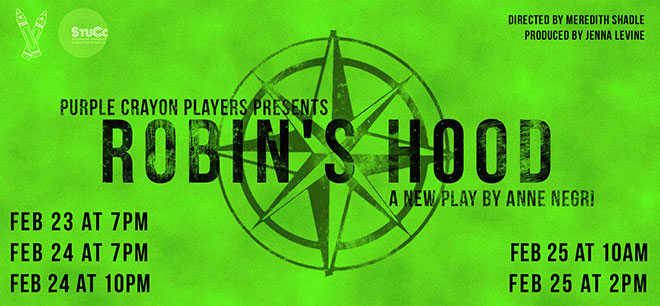 We all know Robin Hood, the English folk hero who stole from the rich and gave to the poor. This weekend, Purple Crayon Players and local playwright Anne Negri will introduce the world to a new Robin Hood – a young woman who gives away food in a community where food is scarce.
Robin's Hood, Purple Crayon Players' winter show premiering in Shanley Pavilion on Thursday, is the theater board's first commissioned work. The board reached out to Negri, the drama specialist at the Dr. Bessie Rhodes School of Global Studies in Skokie, after working with her to produce plays multiple times before. The end product, while written by Negri, drew on ideas Communication senior Meredith Shadle, the show's director and Purple Crayon's outreach director, had for a story featuring Robin Hood as a woman.
"I like the energy of a Robin Hood story, I like the physicality of a Robin Hood story, but I wasn't really excited about the … men in tights kind of thing," Negri said. "I was really trying to think about … what is this story about, and what would make it appealing to young people?"
The common thread between Negri and the Purple Crayon Players is simple: both work on theater that engages with young audiences. Shadle corrects the notion that Robin's Hood won't appeal to Northwestern students by mentioning Purple Crayon's motto: "Theater for young audiences is theater for all audiences."
"In Robin's Hood, there's a character, the sheriff, who's kind of a middle-aged father figure that we're hoping the adults will connect with, and he has this moral dilemma of, 'How do I help my kids but also keep my job and do the right thing?'" Shadle said. "But on the same plane, there are four 12-year-old characters that we're hoping the younger audiences will connect to."
Purple Crayon Players spends more time making their theater accessible for younger audiences, though. With Negri, they've held four workshops of the play where young audiences gave feedback. Last week, the board's monthly story time at the Evanston Public Library featured a scene from Robin's Hood, a Robin Hood story read by one of the characters and a craft where kids made Robin Hood hats. After the play closes at Shanley Pavilion, Purple Crayon plans to take it to seven elementary schools across the Evanston area for its spring tour.
Communication sophomore Jenna Levine, the show's producer, had the tour on her mind even while she worked on the Shanley production.
"One of the things I was really cognizant of as a producer is making it into an environment that didn't feel like it was going to be shrunk down in the future because of the limitations of bringing a show on the road," Levine said. "I'm excited about having the kids who can't see it in Shanley but are seeing it with their schools feel like they're getting the full experience of the show."
The same went for Negri as she wrote the play, since it will eventually come to her school.
"All of my students at my school, in third grade through eighth grade, are going to see Ms. Negri's play," Negri said. "So it's got to be especially good."
As a play for younger audiences, Robin's Hood still deals with big issues like food insecurity and doing "the right thing." Purple Crayon Players provides study guides at all their shows for children to tackle the themes and will hold workshops at each of the schools where they tour the play. But because of the relevance of these issues, Levine hopes older audience members will also have more to take away.
"I never really thought about food insecurity as the big problem that it is, and through doing the show, it's been an issue that I'm really aware of and really care about," Levine said. "It's also going to be a good experience for Northwestern students and parents to see, because it is an issue that not a lot of people think about unless they're directly affected by it."
Negri agrees on the the relevance of those ideas and can't help but add another that's on everyone's mind.
"It's a story of resistance," Negri said. "It's a story of, 'How do you stand up for your community in difficult times?' … So hopefully it's even more timely than I may have originally thought back in June when I got the idea."
Robin's Hood runs Feb 23 at 7 p.m., Feb. 24 at 7 p.m., Feb. 24 at 10 p.m., Feb. 25 at 10 a.m. and Feb. 25 at 2 p.m. The show is at Shanley Pavilion and admission is free.