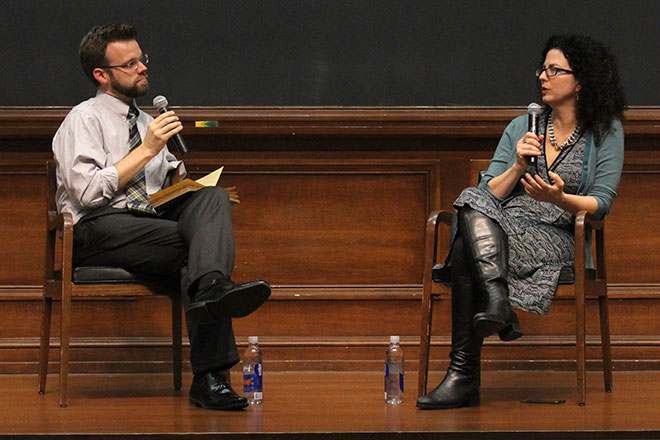 Many TV critics have a set of tools at the ready for their job: the 5-star rating, the genre label and yes, the top-10 list. Not Emily Nussbaum.
Nussbaum is The New Yorker's television critic, and she rejects nearly all of these. It's something she honed as an editor at New York magazine, where, after writing and editing so many, she eventually turned against top-10 lists and created the Approval Matrix, a "deliberately oversimplified guide" to the week in culture. It's also led her to the 2016 Pulitzer for criticism, and it's influenced what she called her "underlying argument about television": Television is an art form in its own, and doesn't need to be simplified by ratings or hierarchies.
Nussbaum proved that Thursday night at the Contemporary Thought Speaker Series' last event of the year: her talk, moderated by Nick Davis, an associate professor in the English Department and Gender & Sexuality Studies Program who teaches a course on film criticism. But not before Davis got off to a good start with Nussbaum, gushing about her review of The Leftovers inspired the writers of the show, one of whom he knows personally.
"I'm trying to make you cry," Davis joked. "I feel like that's my job as an interviewer."
Davis started off asking Nussbaum about her unorthodox start in arts criticism – how she in fact studied English and creative writing, dropped out of graduate school, and worked as a social worker for a bit before finding her way to TV criticism.
"It just seems so mean," Nussbaum said of her initial perceptions of criticism. "It seems like a parasitical activity." She later found, though, that it played to her "being witty sometimes" and "kind of enthusiastic quality."
Nussbaum also used her own experiences to offer some advice to budding critics. For one, don't just consume the type of media you want to write about. Nussbaum said her poetry background, having written poetry reviews for The New York Times, sometimes finds its way into her TV criticism – such as her review of The Normal Heart, where she draws on Thom Gunn's "The Man with the Night Sweats." This, she said, makes essays "feel thicker," as opposed to just being about TV.
Nussbaum has written for two of New York City's most prominent culture magazines, sometimes seen as polar opposites: New York and The New Yorker. While some may worry about having to live up to a "stuffy" voice and style at a magazine like The New Yorker, Nussbaum said she only made a few changes to her writing.
"Seeing my stuff in The New Yorker for the first time was a shock," Nussbaum said, recounting how she had read the same font when she was younger. "The main thing was, I felt like I had to earn my jokes a little more."
Some may not know Nussbaum for her work in The New Yorker, though. Perhaps, instead, it's for her political opinions, which she tends to voice on Twitter between commentaries on shows. Nussbaum said after the election, she found it hard to justify criticism at first – going back to it being "parasitic." But, she found inspiration to continue as a critic through the shows she was watching post-election, like The Crown and Parks & Recreation.
"I found I was so absorbed in certain shows, often which had nothing to do with what was going on," Nussbaum said. "I always feel this weird gratefulness to the shows I was watching during that period."
Obviously, no conversation with someone who gets paid to watch and write about TV would be complete without discussing shows themselves either. Most of that took place during an audience Q&A, when Nussbaum touched on series finales, changing her mind about shows halfway through a season or series and how reality TV is "the television of television. (Basically, it's perceived as a low genre of something already perceived as a low medium.)
At one point during the Q&A, Lauren Herold, a doctoral student in Screen Cultures, asked Nussbaum about the male gaze and female gaze, academic topics that sometimes seep into TV writing. When Nussbaum mentioned a panel she sat on with Orange Is the New Black creator Jenji Kohan and Transparent creator-director Jill Soloway, where they argued about gazes in TV, Herold said that panel inspired her to study TV at the doctoral level.
"I often look to her when I am struggling to form an opinion about a show I'm watching," Herold said. "I went [to the panel] and I realized it was everything I wanted to talk about for the rest of my life."
And Nussbaum's answer about the male gaze and female gaze?
"I bridle at these terms and find them frustrating," Nussbaum said, bringing up shows like I Love Dick and arguing that men's and women's preferences can't be simplified. "Is there like a lesbian gaze?"
The night ended with students telling Nussbaum about the shows they're watching, like Twin Peaks and Master of None, and Nussbaum lamenting with students about the cancellation of shows like Sense8 and The Get Down. An anecdote from much earlier in the talk, however, better encapsulated the night's big idea. Davis brought up the specific piece that got him hooked on Nussbaum: "Difficult Women," a reminiscence on Sex and the City and its flaws a whole 15 years after the show ended, which epitomizes Nussbaum's work. Davis said it made him want to read everything Nussbaum ever wrote. Nussbaum related it back to what she stands for.
"I don't like some of my pieces. I love that piece," Nussbaum said. "That piece is just a trojan horse for my underlying argument about television."
Nussbaum best summed up this argument – for a sort of "contemporary thought," in TV – in an interview before the talk: "Developing a language of talking about television as television, instead of talking about it in comparison to movies, in comparison to books," and "breaking down what I feel like is the false hierarchy that people have about TV shows."
Editor's Note: This story was updated to accurately reflect Nussbaum's experience working with top-10 lists at New York. North by Northwestern regrets the error.