There were few words Lupe Fiasco never said during his talk at a packed Galvin Hall on Thursday.
The rapper talked about his faith in Islam, and how being Black affects being Muslim. He talked about hip-hop music. But he also talked about his childhood, OCD, sex, technology, Chicago, partying and the media.
The Muslim Cultural Students Association brought Fiasco, a Chicago native, to campus as its Fall Keynote. Fiasco gave a talk called "Informing Faith," and then joined Amirah Sackett, a Chicago-based hip-hop artist and teacher, for a question-and-answer session on a range of topics.
Before he started his talk, Fiasco loosened the crowd up with a joke: "Why did the sheik go to McDonald's to break his fast? Because he heard they do maghrib [a prayer that sounds like McRib] there."
Fiasco made clear from the start that he was there to talk about only his faith. He said he wanted to give a picture of his life that can't be found online.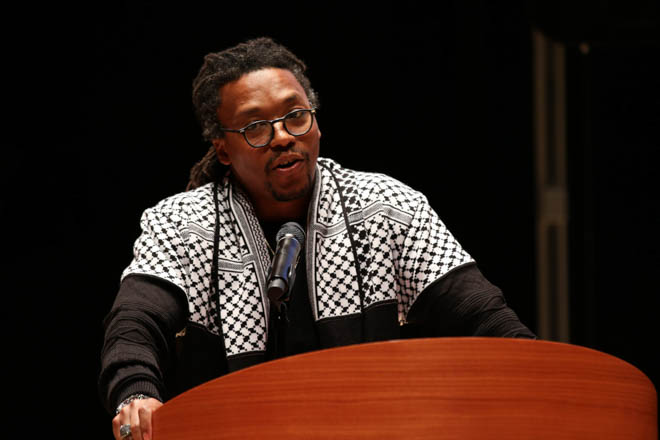 "I was born Muslim, but I was not raised Muslim," Fiasco said in his talk. "Islam was not my culture, it was my religion."
Throughout the talk, Fiasco tried to make light of some of the more serious situations he talked about by making jokes about them.
"Being born African, you already have a lot of baggage that you have to deal with, and some of those baggages can't be resolved with Islam," Fiasco said. "Not only are you in the worst neighborhood in the city, but you also can't eat pork."
Weinberg sophomore Imran Khan's experience growing up was vastly different than Fiasco's, so he said he found it interesting to hear about Fiasco's life.
"I grew up in the suburbs with lots of other Muslims in the area," Khan said. "Lupe's experience in the city where it can be more challenging to be Muslim … made me think, 'What do you do when you're in a different environment?'"
One of the themes of Fiasco's talk was the difficulty of following religion – something he said he encountered as young as 13 and continues to deal with today.
"You read the Quran, and then you start to think that the guy that's going to hell is you," Fiasco said. "What are all these rules? What is this meant to do? … Faith is about, in the face of all that, do you still retain your goodness?"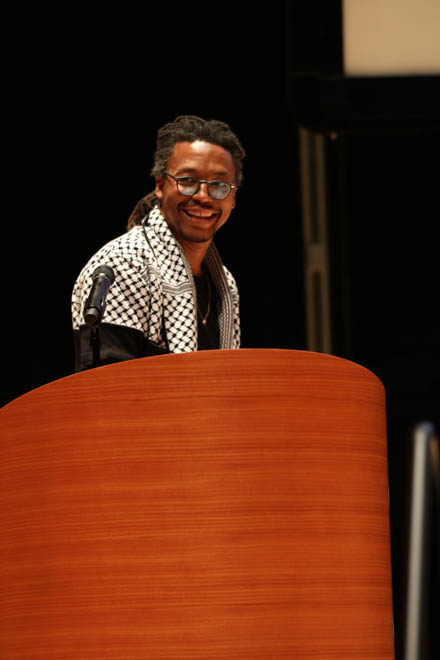 Anum Haider came from Skokie to see Fiasco speak, and she said she appreciated Fiasco talking about following rules and messing up.
"When he was talking about Islam and he was saying, 'It's why do I have to do this thing and that thing when I really want to do this thing and that thing,'" Haider said. "He talked about, it's not supposed to be easy, it's not supposed to be fun, and I thought that spoke to me."
At the beginning of the Q-and-A, Sackett acknowledged that Fiasco talked a lot about his personal life.
"I really appreciate that vulnerability and sharing that with all of us," Sackett said.
While he's famous for being a hip-hop artist with a Grammy and a No. 1 album, Fiasco didn't talk much about music. In the Q-and-A, he did mention that his favorite album or mixtape he's made is Fahrenheit 1/15 Part II: Revenge of the Nerds, to some cheers from the crowd.
Fiasco also touched on how hip-hop is portrayed as emphasizing partying, alcohol, drugs and sex. He said while it may look like they're important in hip-hop, they are struggles across the board.
"You're not immune to this world," Fiasco said. "Alcohol, drugs, women, all that stuff existed before rap. All that stuff existed before Islam."
For Khan, it was important to hear Fiasco talk about messing up in his faith.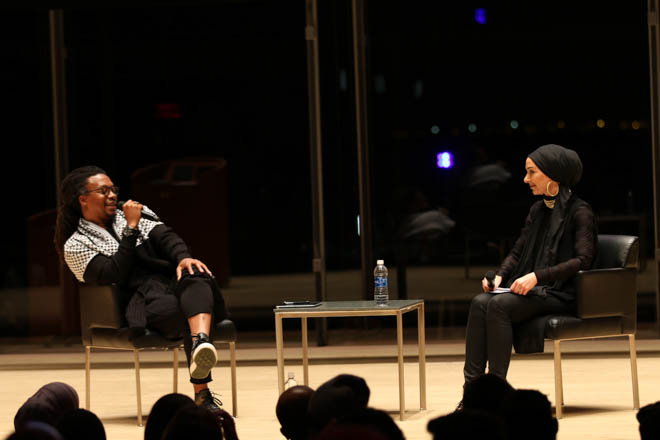 "He said people don't deserve to be called the devil every time they mess up a little bit, and that's really I think something that's going to stick with me," Khan said.
Before he ended his talk with a joke that didn't land quite as well – "What do you call a woman with a Saudi Arabian driver's license? Transgender" – Fiasco responded to a quote he brought up toward the beginning. The quote, from psychologist Carl Jung, talked about believing in God and knowing there is a God.
"I don't believe. I know," Fiasco said. "I know there is a god and I know there's some plan to this and I know there's truth in his words."