To get to their Contemporary Thought Speaker Series panel, Wesley Morris, Doreen St. Felix and Rembert Browne took an Uber. During their ride, they got to talking about their experiences in culture journalism – and during their panel on culture journalism, they got to talking about ride-booking services like Uber.
"I don't want to have to rate the experience!" Morris, a New York Times critic-at-large, said about in-app ratings. (Uber and Lyft notoriously value five-star ratings for their drivers.) "I'm a critic! My whole life has been about trying to find a way to get away from a rating system – and now I can't get out of a fucking cab without having to leave a rating!"
The outburst came from Morris talking about the three-star rating he gave a Lyft driver, and the call he got from Lyft afterward. He said the ride was "fine," to which Browne, a freelancer formerly on staff at Grantland and New York, replied he should've given it five stars. ("He got fired," Browne joked.) For Morris, this represented a larger phenomenon: "the rating of all life experiences."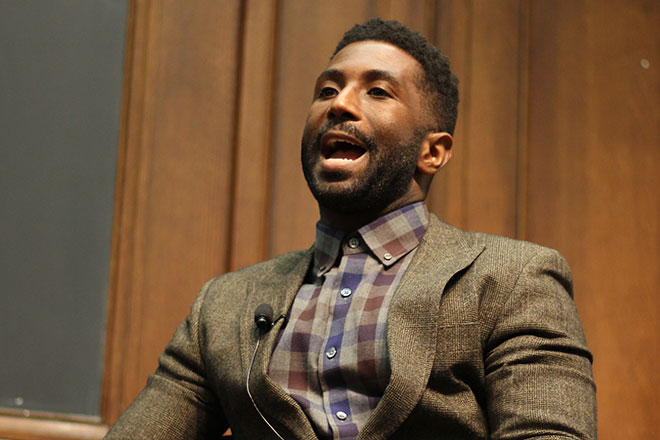 Throughout the night, the three critics, with commentary from moderator Britt Julious, a Chicago Tribune columnist, got into multiple casual discussions such as that one. (The fact that half the microphones didn't work, so the panelists didn't use them, added to the casualness.) Speaking to a crowd of close to 100 in Harris Hall, their conversation extended past the hour-and-a-half of the event – and even after the event's conclusion in one-on-one settings – to discuss the role of criticism, being Black in a newsroom and journalism on social media.
All of the journalists on the panel were Black, and their frequently discussions circled back to newsroom diversity. They agreed that newsrooms often look to them to cover what Browne called "our Black shit," but that there's risk in not taking the stories relating to Black issues because they might not be covered justly. St. Felix, a staff writer for The New Yorker, said she wonders about her role in these situations as a writer versus a spokesperson. The only other Black woman writer at The New Yorker is a war reporter who reports in Africa, so she often texts her friends to make sure she has "the right opinion" for her identities.
"There becomes this very weird spotlight on the one writer or the couple of writers," St. Felix said. "It creates this culture of censorship within myself. … America is way more diverse than newsrooms – it's actually fucked up."
St. Felix went on to talk about white writers who stray away from talking about Black artists, out of fear of critically engaging with their work. This resurfaced later, with Morris mentioning that it's, for instance, unfair to Beyoncé when people don't engage with Lemonade. He went on to talk about how fan bases can sometimes try to deter critics from critiquing an artist like Taylor Swift.
"Swifties? Is that what we call them?" Morris asked.
"We don't call them," St. Felix joked back.
"We don't call them. That's criticism, y'all!" Morris said.
And the three panelists went back to that idea throughout the night – that criticism needs to engage with "the object," not just with its politics. If criticism is to engage with politics, they agreed, it can talk about cultural politics. Not everything needs to be about Trump, after all, and interrogating culture can sometimes be more interesting or more important.
"When I try to learn about a micro-era in America, it's the pop culture pieces that I read," St. Felix said. "[Culture] is not only responding to politics, it's creating its own politics."
But when a critic engages with the object in the world of social media, where critics often think online as well, they're open to their own criticism, Morris noted. He pinpointed his current lack of presence on social media to a specific moment – a bad review he gave to the 2015 war drama American Sniper, which prompted a "nasty" social media backlash.
Browne and St. Felix, though, said social media is integral to their work, whether they like it or not. Both are known for their Twitter presences – St. Felix said she was initially hired for it and the audience that came with – but wish their stories were emphasized more.
"I send these in Ubers, but like, I spent eight days on this piece," Browne said.
Except Weinberg senior Ben Zimmerman, chair of CTSS, actually reads Browne's work. He said he's been in touch with Browne for years about a CTSS event, and it finally manifested as the panel with other culture journalists, which was worth the wait to him.
"They are just so interesting, from a journalism side, from a cultural side, from a political side. They are fully representing this wave of activism-journalism-everything that I think our generation is really interested in but there aren't a ton of people talking about. … It's going to inspire interesting conversations for weeks to come, because that's what we're all about," Zimmerman said.
The intersection of activism and journalism came up explicitly toward the end of the talk. A student asked the panel about writing about race issues as a Black journalist, because she feels like if she doesn't, they won't be covered. Morris said that, as a Black writer, you notice things others may not, and St. Felix added that there's no way to directly write about race because everything is about race. Browne, then, wrapped up by mentioning the work she can do through that kind of writing.
"There's going to be someone that benefits from that thing that you wrote," Browne said. "You just have the capacity to package things into an easy little digestible thing," which can help people work through their thoughts on a topic.
As the event ended, the panelists continued their discussions individually with students. So, this writer asked Morris and Browne what they rated their Uber for the ride over, which made Browne remember that he forgot to do it. He gave the ride five stars, to Morris' dismay – showing that, despite many agreements on the panel, the event brought together a variety of perspectives for lively discussion, and not just on serious issues of criticism either.
Editor's Note: Ben Zimmerman was previously an editor for North by Northwestern.
Correction: Ben Zimmerman is a Weinberg senior, not a Medill senior. Britt Julious did not take the Uber with the panelists. These changes were made at 2:02 a.m. on Oct. 27.