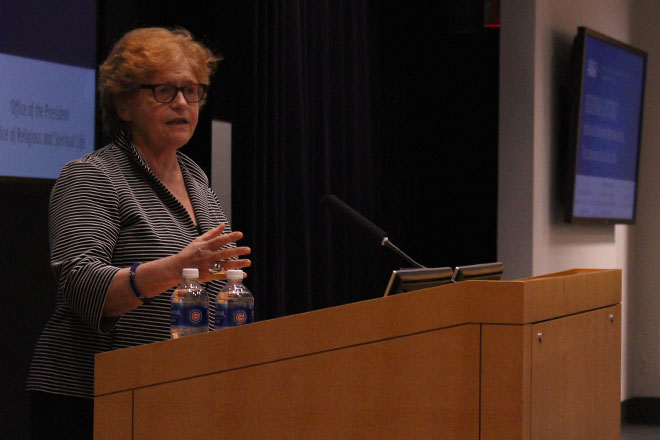 Deborah Lipstadt didn't expect to dedicate her academic life to researching and refuting Holocaust denial. When approached to write a book on Holocaust deniers, she thought it would take four years at most, and then she would return to teaching and researching modern Jewish history.
But things took an unexpected turn. Lipstadt's book in 1993, Denying the Holocaust: The Growing Assault on Truth and Memory, subsequently led to an English libel suit by David Irving, whom she calls a Holocaust denier in the book. The case, Irving v. Penguin Books Ltd., ended in a landmark ruling in favor of Lipstadt. She later wrote about her experiences in 2005's History on Trial: My Day in Court with a Holocaust Denier, extending her scholarship on Holocaust denial.
As Lipstadt told over 150 people in the McCormick Foundation Center forum Thursday night, she didn't expect Holocaust denial to continue to be "disturbingly relevant." In "Holocaust Denial and Alternative Facts: The Continuing Assault on Truth," a talk presented by Hillel and The Jordan and Jean Nerenberg Family Foundation, Lipstadt related her experiences with Holocaust denial to the current political landscape, where so-called "alternative facts" are used to justify anti-Semitism and racism, she said.
"There are facts, established facts," Lipstadt, the Dorot Professor of Modern Jewish History and Holocaust Studies at Emory University, said in her talk. "There are opinions. And there are lies."
Lipstadt first spoke about three lessons she learned from researching Holocaust denial: Holocaust denial comes from anti-Semitic prejudices rather than flawed thinking; Holocaust deniers don't usually seem anti-Semitic at first glance; and denying the Holocaust is lying, not stating an opinion. Then, she moved on and discussed the trial that put her in the global spotlight.
"If you haven't seen the movie or read the book, spoiler alert – we won," Lipstadt said.
In the U.K., the defendant in a libel case must prove that their words are true. Lipstadt said she had two paths: proving the Holocaust as true or proving the basis of Irving's Holocaust denial as false. She and her attorney chose the latter.
"We didn't want this to become a 'Did the Holocaust happen?' trial," Lipstadt said. "What we were doing was pulling the ground out from under him."
To conclude, Lipstadt talked about the role of alternative facts and fact checking in politics today. She said society must take certain evidence-based claims as fact: "The earth is not flat. The climate is changing. Elvis is not alive. The Holocaust happened."
"Go on the offensive," she said about dealing with alternative facts. "We say, 'Prove it.'"
Current discussions of alternative facts make Lipstadt especially relevant to college students, according to Hillel president Samantha Max, who introduced her. In the introduction, Max noted that she was born the same day Irving filed the libel suit against Lipstadt, and her brother was born on the day when the over-300-page ruling came down.
"In an era saturated with fake news and alternative facts, I can think of no better person to speak to us this evening," Max, a Medill junior, said.
After her talk, Lipstadt took questions from the audience. The first came from SESP freshman Talia Meidan, who addressed a sort of "elephant on the campus": Arthur Butz, an associate professor in Electrical Engineering, who wrote The Hoax of the Twentieth Century: The Case Against the Presumed Extermination of European Jewry, a book outlining his case against the Holocaust's occurrence. Meidan asked Lipstadt what a student like herself could do on a campus with a tenured Holocaust denier.
"What do you say to him? Nothing," Lipstadt said. "Let him lecture to an empty classroom."
An advocate of free speech, Lipstadt went on to say Jewish students should focus on being activists for the Jewish community instead of focusing on Butz's speech and giving him a platform as a result.
"I needed to hear that I shouldn't do anything because I think that it's my automatic response to want to go and fight," Meidan said. "Knowing that someone so prominent in the field thinks that doing the best I can is standing up for Jewish rights in other respects and not giving him the satisfaction of dissonance is really important."
Nearing the end of her time on stage, Lipstadt echoed a similar point: the need to focus on more than just modern Jewish persecution. While the Holocaust is important to study, she said, Jews should recognize the good that is going on in their community as well.
"We turn Jew into object as opposed to Jew into subject," Lipstadt said. "I think it would be very wrong to see only the negative and not the positive of the Jewish experience."
Editor's note: Samantha Max was previously an editor for North by Northwestern.