About two-thirds of the way through his set at Lutkin Hall, for what was dubbed a "Night of Comedy," comedian Chris Gethard realized something out loud: His jokes weren't doing as well as he'd hoped.
"Tonight, they've hit about one-third where they hit [usually]," Gethard said to an audience of about 350. "I tell a joke that peaks in the middle, skids in the end, and quietly say, 'Everything's OK.'"
Despite that, the event hosted by A&O Productions and the South Asian Student Alliance still had students laughing for around an hour and a half. Couldn't make it? Check out the night's best lines.
Chris Gethard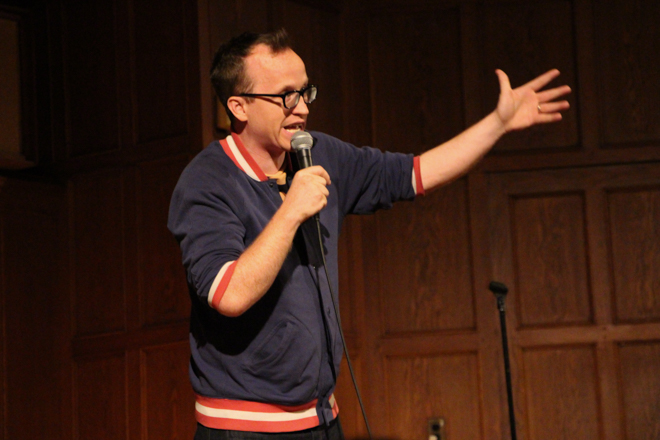 Known for working on his eponymous "most bizarre and often saddest talk show in New York City," Gethard headlined the stand-up event. He drew heavily from his teenage years and recent experience for a set full of self-deprecation.
On asking his dad, who has a doctorate in environmental science, about plans for the impending apocalypse:
"New York City, apocalypse hits, what do I do? He goes, 'Follow the rats. … Rate are survivors, man'" … 'Follow the rats,' that's my new life mantra."
On solving political divides and Waffle House:
"Those of us who live in the northern half of the country need to stop judging the whole American South based on people we meet in Waffle House. … That's a place where broken people go to hold on for one more night."
On high school friends and being a 16-year-old boy:
"You know what else seems like a good idea when you're a 16-year-old boy? Having sex with a couch just to see what happens. … Every time you're watching college basketball and there's a spinning logo on the screen, that's my friend Brian and he fucked a couch in 1996."
On his bully from high school:
"You know what he's not doing in 2017? Going to random colleges and complaining about me."
On DessertTruck in New York City:
"The saddest moment of my life was not when I saw a hipster food truck run over an elderly man, but I did see that too. … The saddest moment comes seconds later when, prompted by nothing, I make direct eye contact with the guy in the truck and say, 'One molten chocolate cake, please.'"
On Gatorland, the other theme park in Orlando:
"Something that doesn't always end well: We said, ' Let's see what else Orlando has to offer.' … [Gatorland] highlights all the reasons that Disney World sucks. … As far as I can tell, Gatorland came into existence when some lunatic who already owned a swamp put a fence around it. … I would argue that I'm actually underselling what Gatorland does."
On the two perfect statements he's heard in his life:
An angry man who came onto a bus after students threw ice at his face: "Which one of y'all wants to get off this bus and fight me like a man?"
A student on the bus, in response: "Dad, please get off the bus."
Aparna Nancherla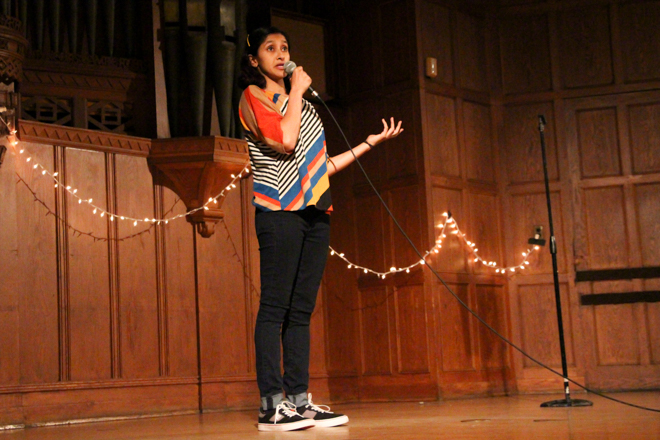 She writes and acts for all your favorite comedians, but Aparna Nancherla can be just as at home on a stage, too. The absurdist comedian talked about politics, her depression and awkward experiences – and her set was equally as awkward, in a way the audience loved.
On talking to pilots after flights:
"I never know what to say to them afterward. You know, it's like, 'Thank you, good game, whatever.' … 'That safety video was just a subversive meta-commentary on obedience.' 'You made me rethink clouds!'"
On listicles:
"'37 puppies so cute you'll be mad,' and you're like, 'I'm already mad!' … [Eventually] it just comes back full circle to the mundane and it's just like, 'The Ten Commandments.' Guess I need a refresher."
On Trump's policies:
"Even if the writers of Black Mirror read some of this shit, they'd just be like, 'Too dark!' … All the national parks are amusement parks and the only ride is fracking. … Also, he canceled birds. He didn't like what they tweet about him."
On living in Trump's America:
"I ordered a sandwich on the inauguration and it was supposed to come on wheat bread and it came on white bread and it's like, 'OK, it's already happening.'"
On depression, anxiety and medication:
"It's good to mention depression during your set because people are like, 'I guess you can have it all.' … There is no method to pick up the pills you've spilled on the ground without looking like a total human red flag. … It just quickly turns into a dark one-woman show that no one agreed to attend."
Graque Dowling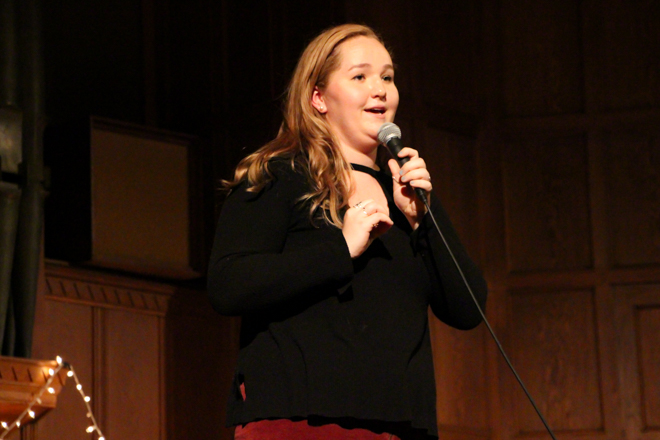 A sort of campus celebrity, Communication sophomore Grace Dowling, who performs as Graque, got a dream set opening for two up-and-coming comedians. Her set of sex comedy even earned a compliment from Gethard later in the night: "Grace did by far the best joke about child pornography that I've heard in a long time."
On sex with her first boyfriend and her experiences with queer people:
"Neither of us came, but he did come out of the closet two days later. … Everything I touch turns to gay. … Including myself. I touch myself, and I'm bisexual."
On thinking she did child porn because she watched porn as a child:
"I do what any rational masturbating 10-year-old does and I turn myself in. … We get through the whole 12 minutes, 30 seconds [of her favorite video] before anybody's like, 'Grace, you're not in this.' 'I know, I just touch myself to it!' And I still do, every day!"
Mee-Ow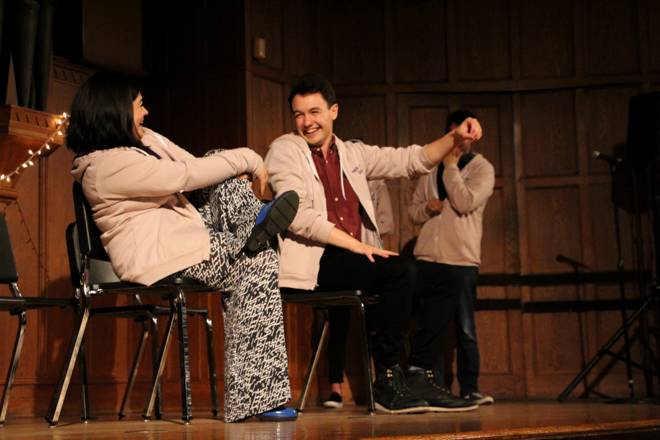 The student comedy group describes its performances as "one-third improv, one-third sketch comedy, one-third rock-and-roll," but Mee-Ow stuck to the improv to open the Night of Comedy. The group played four of its signature improvisation games, including crowd favorites like Sex With Me.
On working in a macaroni factory, but wanting to paint (in a game of Oscar-Winning Moment):
"Fifty-eight years … one hand pasta, one hand box, boom, boom, Kraft. I just wish I had a little more craft with a C."
On career prospects (in the same game of Oscar-Winning Moment):
"But with my degree from School of Communication, I'm going nowhere! … I went to a private Montessori school for kindergarten, I was going to be somebody."
On sex and flutes (in a game of Sex With Me):
"Sex with me is like a flute: Put a finger on all my holes, and I'll go, 'Woo!'"