I had heard stories of long cross-campus walks even before getting to campus, but nothing could've prepared me, a naive freshman, for my first crunch-time walk from 1835 Hinman to the Frances Searle Building a few weeks ago. Trekking between South and North Campus, or vice versa, may be a dreadful hassle, but the following playlists are here to save the day, regardless of the route you take or situation you're in.
Route One: Past Deering Meadow and Along Tech Drive
Using the paths between South Campus buildings and Deering Meadow definitely makes for a faster route between those North Campus lectures or South Campus discussion sections, and this playlist will let you listen to some of the best new music on your way there.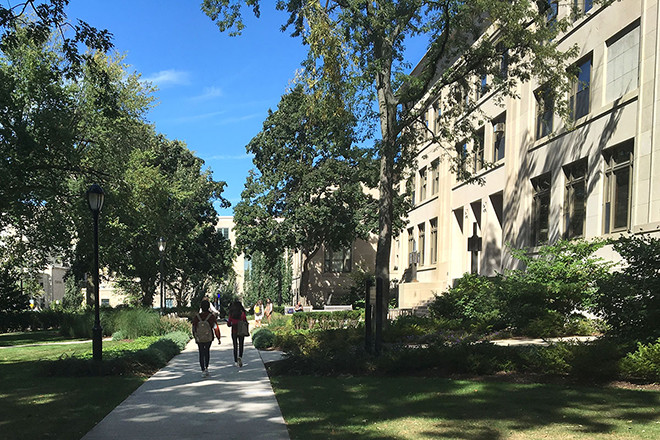 "Going the Distance," Zipper Club
To start off, the fresh and upbeat debut single from Zipper Club – a project from Lissy Trullie and Cerebral Ballzy's Mason James – will prepare you for the distance you're about to take on.
"Bad Decisions," Two Door Cinema Club
Two Door Cinema Club's danceable new track is about making bad decisions, and perfect for if you regret your choice to take a class more than a 10 minute walk from where you live.
"Welcome to Your Life," Grouplove
The poppy return to form off Grouplove's third album, "Welcome to Your Life," will motivate you to keep going after you realize that this commute will be part of your life for the next 10 or so weeks – through all the rain, snow and wind that awaits.
"Move," Saint Motel
If you left for class a little late (or maybe you just walk slow, no shame), you'll need to pick up the pace toward the end of your walk, and the horns in Saint Motel's danceable new single will get you moving to class.
"Isombard," Declan McKenna
"If you can't walk, then run," as British singer-songwriter Declan McKenna sings in the perfect soundtrack for your last-ditch sprint to class.
Route Two: Along Sheridan Road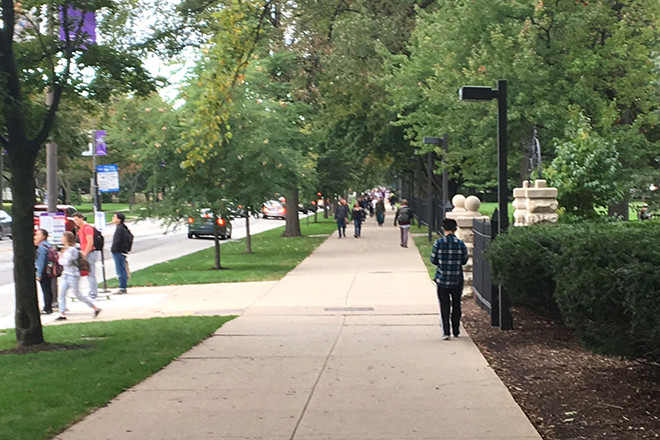 It happens to all of us — you forget about your North Campus class with only 10 minutes to go, and you're still in your dorm. This playlist will help you brave the other walkers and bikes as you walk the straight shot down Sheridan Road to make it to Tech or University Hall on time.
"Love and War," Banks & Steelz featuring Ghostface Killah
You can continue to contemplate life's big questions from the reading you were doing before you realized you had a class to go to – like is all fair in love and war? – with this oddly amazing collaboration from Interpol's Paul Banks, Wu Tang Clan founder/rap god RZA and Wu Tang member Ghostface Killah.
"Prima Donna," Vince Staples featuring A$AP Rocky
The new track from Vince Staples and A$AP Rocky will get you into the self-centered, prima donna mindset you need to dodge bicyclists and walkers on Sheridan, and the beat will keep you on your way to class at record time.
"Harambe," Young Thug
As you start running low on time, Blowout headliner Young Thug's blistering and aggressive anthem "Harambe" – yes, named after the gorilla shot at the Cincinnati Zoo in May – should get you motivated to make it to that lecture. (If nothing else, do it for Harambe.)
"Blood in the Cut," K.Flay
The blaring production on the new single from alternative hip-hop artist K.Flay, and lyrics about pain, will help you power through the shin splints you feel coming on from your past 10 minutes of speed walking.
"Wow," Beck
You'll definitely be in shock as you make it to class on time, and there's no better way to express that feeling than Beck's trap-influenced acid trip, "Wow."
Route Three: Along Lake Michigan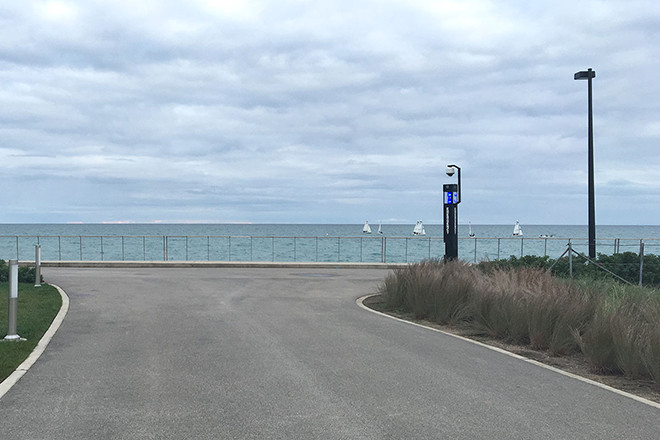 Some days, you just need to decompress before that complicated linguistics lecture, and there's no better way to do that than a nice walk beside Lake Michigan on your way to class.
"Gumption," Your Friend
There's no denying that it'll still take some effort — gumption, if you will — to get to the other end of campus, but at least you can chill out a bit with this ambient song from singer-songwriter Taryn Miller's project Your Friend.
"Painting (Masterpiece)," Lewis del Mar
You're surrounded by some beautiful nature on campus, and this casual and fun song from alternative duo Lewis del Mar will get you in the right, relaxed mindset to appreciate the colors of fall before they go away.
"Wild Sun," The Strumbellas
The sun may not be out because of all the fall rainstorms, but you can still imagine it is as you walk by the lake beach and listen to this acoustic, thoughtful effort from indie folk stars The Strumbellas.
"Water," Ra Ra Riot featuring Rostam
With the recent cold weather, it may not be the best idea to actually jump into Lake Michigan, as baroque pop band Ra Ra Riot sings about in this low-key ballad, but you can still appreciate it from afar before class.
"A Million Ways," Cheerleader
Cheerleader's summery, surf punk-influenced single "A Million Ways" will solidify your decision to give up some work for the more fun things in life, like taking the long route to class — in the band's words, "how could I [er, you] complain?"