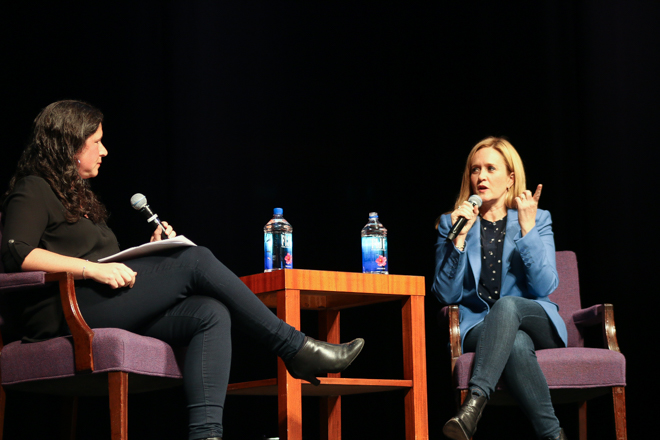 Before Samantha Bee's event as A&O Productions' winter speaker began, song lyrics like "Live fast, die young, bad girls do it well" and "Who run the world? Girls" echoed through Cahn Auditorium. But to Bee, notably the first woman to host a late-night comedy show, it didn't seem to matter.
"I don't think about it," Bee said of being a woman in late night. "I think that when I retire from comedy, I'll probably think about it all the time and be like, 'Where's my reward?'"
Bee, who hosts Full Frontal and was previously a correspondent on The Daily Show, spoke to a sold-out crowd of around 1,000. The A&O event was co-sponsored by College Democrats and One Book One Northwestern. Rebecca Traister (CAS '97), who profiled Bee for a January 2016 New York Magazinecover story, moderated – which she said she "could never have dreamed" about.
Bee's talk ranged broadly, but circled back to ideas like comedy and media, the current political climate and, yes, womanhood. Even with another Trump speech going on as she spoke – "Let us know if he threatens to blow something up," Traister said at the beginning – Bee made people laugh.
"In addition to being a scourge on humanity, is Donald Trump a gift to comedians?" Traister asked, leading to one of the funniest exchanges of the night.
"I thought you were going to call me a scourge on humanity," Bee replied. She then added a simple, "No."
Another moment of comedy centered around a painting of Vladimir Putin, shirtless and riding a bear, that Bee keeps in her office. She got the portrait from the set of The Detour, a scripted comedy she made with her husband, Jason Jones.
"It doesn't seem funny anymore, does it?" Bee said when Traister asked if she'd kept the painting up after Trump's win. "I feel like I should put a shroud over it."
"I want to believe that one day it'll be funny again," Traister responded.
But the politics were there, too. In an interesting exchange, Traister asked Bee about the interview she did with now anti-Trump conservative commentator Glenn Beck, which pushed her further into the spotlight. Bee said although she "couldn't even watch" Beck when she was a correspondent on The Daily Show, she wanted to reach out.
Initially, the plan was to have a Full Frontal "holiday special" to somewhat make amends with prominent conservatives like Jeb Bush and Ted Cruz. But, when political tides changed, that fell through – although she and Beck got back in contact later, and grew to like him apart from his ideas.
"There is this really weird little ice flow that we can stand on and make a conversation," Bee said. "I think that's what it will take. … I don't have the answers you seek. I just have a weird thing with Glenn Beck."
And while she stressed that point – that she doesn't have all the answers – Bee later told the crowd that progress happens at local levels. "Human decency" in talking with people across the aisle, "everybody pitching in" and "doing the things that need to be done" to help the country.
Still, to many in the audience, the most important parts focused on Bee's identity as a woman. She spoke about how being a woman affects her view of the world, about perceptions of women and anger, and even with Traister about "pussyhats" and the Women's March. (One of Bee's daughters still wears a pussyhat to school. Traister said that although she first thought they were "infantilizing and reductionist," she wanted a hat once she got to the march.)
Weinberg freshman Hallie Cronin submitted a question that Bee answered about being a woman in late night. Although she didn't process the first part of Bee's answer because of excitement, she agreed with what she did hear.
"It shouldn't really matter, her gender and the quality of her show," Cronin said, agreeing with Bee. "Anyone who's a feminist is someone I think is worthy to see."
Along with that, SESP senior Bella Sandoval specifically appreciated Bee's thoughts on being seen as an angry woman.
"Women are policed so much on so many levels throughout our lives," Sandoval said. "I think it's really cool to see her unabashedly just like, 'I'm going to be myself and I'm going to share my opinion.'"
And Bee said that's what she'll continue to do.
"When you give a comedy show to two women [Bee and showrunner Jo Miller] who are in their late 40s and early 50s, we just don't give a fuck," Bee said to roaring applause. "I have never felt more true to myself than I do now."
Editor's note: Hallie Cronin previously contributed to North by Northwestern.