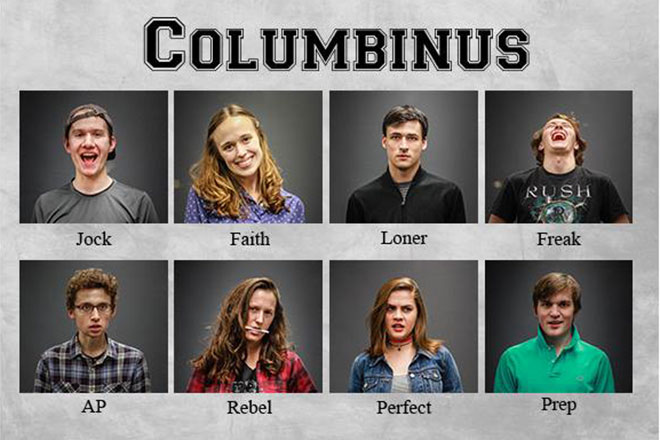 There are plays with distinct political messages – plays like Urinetown: The Musical (at Northwestern through next weekend!). Then, there are plays with less direct messages, like Columbinus.
As a collaboration with Northwestern Students for Gun Violence Prevention (NSGP), Communication senior Abby Weissman is directing a production of Columbinus at the Mussetter-Struble Theater this weekend. The idea initially came from Communication senior Courtney Doyle, a member of NSGP and an actor in the play, which is an objective retelling and reimagining of the Columbine High School shooting. The play looks at eight characters – literal high school stereotypes, like Prep, Jock and Perfect – at Columbine, until Freak and Loner develop into Eric Harris and Dylan Klebold. The play culminates in a narrated account of the shooting.
NBN talked with Weissman about the show, its politics and working with such heavy topics. Read on for an edited and condensed version of that conversation.
NBN: How did collaborating with NSGP on the show work?
I feel really lucky, because I feel like they've given me their complete artistic trust throughout this process. So, artistically, the actors and I in the rehearsal room have really been able to do whatever we want to with the script, we've been doing it as we would treat any normal artistic process. What's different is a lot of the outreach. The outreach has had a much more important component in the show, and that's because that's the work that NSGP does. So, it's primarily focused on the message, primarily focused on that, as opposed to it being an experience for the student artists making the thing, which is most of what student theater is. They've been really helpful with learning how to do different technical things that we need because we didn't have a full theatrical team, in addition to getting really cool guest speakers, doing a partnership where the show is free but there's a suggested donation. The most exciting thing has been, they have a lot of connections with different larger social justice organizations on campus. So, we're hoping that a lot of people who don't normally come see theater will end up at the show.
NBN: So in short, it's a play based on the Columbine shooting. What do you think the play is about?
It almost feels like it's two different plays between Act 1 and Act 2, but they're very much interrelated. For me, I think a lot of what the play is, it's about being able to recognize the pain and suffering in the other people that you're surrounded with as opposed to putting up walls and closing yourself off. So I think it's really easy, especially when things like Columbine happen, to immediately place blame, to immediately put up walls, to immediately be like, those people versus these people, the good people versus the bad people. But the play really works at trying to break down those walls and understand everyone, which I think is an important and powerful message.
NBN: I've read arguments that this play doesn't try to push a political agenda. What are your thoughts on that?
I think it does a really good job at being objective and being compassionate towards all of the characters and letting the audience draw their own conclusions. It's written in such a way that the audience has to involve themselves, to have opinions about it, because it's presenting all of the viewpoints of all of the characters that were around there equally, setting them all up and not passing judgment on any of them. It ends up leaving it up to the audience, which I think is really interesting and exciting.
NBN: How do politics play into the show, then?
If there is an enemy or a bad guy in the show, it's the guns themselves, which is I think fitting for the club. And we've definitely treated it like that in the rehearsal room. They're prop guns, obviously, but they still look really scary, and so [we're] treating them with that kind of weight and viewing those props specifically with, this is what is wrong. It's not about the people being one way or another, it's about this literal thing. If it were to be a political message, it would be closest to that.
NBN: Mentioning the guns – the play deals a lot with a lot of mature topics. How does that play into the production?
I had one of the actors come to me and be like, "I thought it was kind of weird that you were doing this play," and then I realized, Oh, you need someone who's going to be really lighthearted, [like me], otherwise it's going to be a trudge the entire time. We talk about safety in the space in terms of emotional, physical safety, if you need to step out at any time, if we're ever doing something that feels uncomfortable to you. When we first read through the script, I said to any of the actors, if there's words in here you don't want to say, if there's stage directions in here you don't want to do, tell me immediately, we'll cut them. No questions asked. I'm not asking the actors to do anything they're uncomfortable with. In addition to that, making sure that the room feels really lighthearted. Making sure that actors know each other, making sure that we're able to make jokes about some of the things that are really hard.
I want to make sure that when people leave the room, they're leaving the characters behind in the space. This is not a method acting kind of show. I'm not asking them to become these people, I want them to understand these people, but very much be separate from them.
NBN: For students who go to see the show, what would you hope that they take away from it?
This sounds so bad, but I just hope that they walk away a little unsettled. And I hope that they walk away more willing to be open and compassionate towards people who might be in pain in ways that they can or cannot see.
NBN: And then, a different aspect of that would be, if you were talking to a student, why would you recommend they go see the show?
Because I think it's taking a very important issue and making it very relatable, especially for people who I think are in the younger years of college, and making it something that we can all engage with and we can all understand and dialogue about. Also, there are a lot of parts of it that are really funny. Contrary to what you might think, the whole thing is not a trudge. There's some really fun moments in there too.
NBN: Is there anything else you didn't get a chance to mention that you'd like to say?
[The cast is] just really great. This is only happening and it's only good because individually every single person that's working on it put in at least as much work as I did, if not more. It's really been a group effort, even though my name ended up on the posters.
Columbinus: A Struble Project runs Feb. 17 at 8 p.m. and Feb. 18 at 2 p.m. and 8 p.m. at the Struble Theater. The show is free, with donations suggested to Everytown for Gun Safety. The 8 p.m. performance on Feb. 18 will feature a post-show discussion with Knight Lab fellow Steve Tarzia, founder of gunmemorial.org.